Untitled Hilde Lysiak drama – August 2018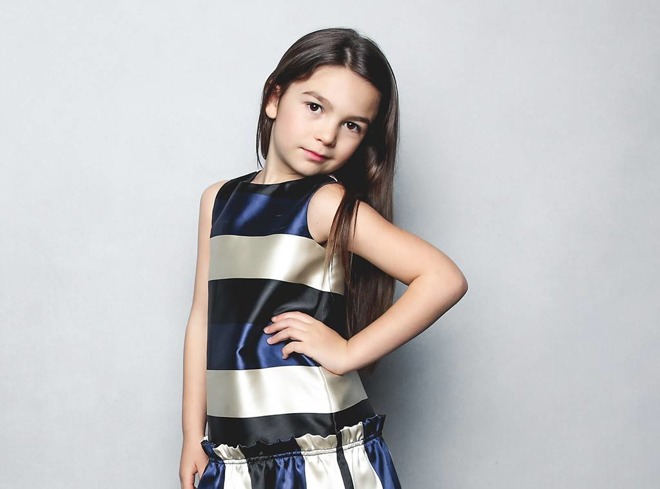 The main role in the upcoming drama will be played by Brooklynn Prince, no more than 8 years old, who recently won multiple awards for playing Moonee in "The Florida Project," according to Variety. That movie was her first real project, but Prince has already been cast for films like "The One and Only Ivan," starring Angelina Jolie and Sam Rockwell.
The real Hilde Lysiak was a preteen girl who exposed a murder in the town of Selinsgrove, Pa. through her own newspaper, the Orange Street News. The fictionalized story, still unnamed, will follow Prince's character as she moves from Brooklyn to a lakeside town where she surfaces a cold case others are trying to hide.
Ron Moore sci-fi series – August 2018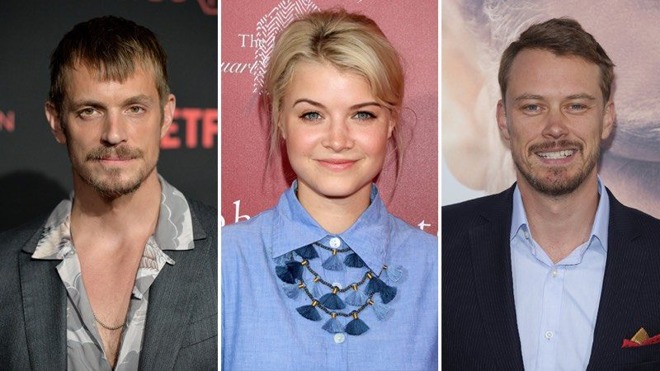 From left: Joel Kinnaman, Sarah Jones and Michael Dorman. | Source: Variety
Ron Moore's as-yet-untitled sci-fi series is filling out its cast with Joel Kinnaman, Michael Dorman and Sarah Jones now attached to the project, reports Variety.
Kinnaman, known for his work in dramas including "House of Cards" and "The Killing," is no stranger to the sci-fi genre having starred in the Netflix series "Altered Carbon" and the recent "RoboCop" reboot. Dorman currently stars in the Amazon series "Patriot," while Jones' credits include USA Network's drama "Damnation" and the CBS' recent "LA Confidential" pilot.
Charlie Day, Rob McElhenney comedy series – August 2018
Apple has ordered a half-hour comedy series from "It's Always Sunny in Philadelphia" co-creators Charlie Day Rob McElhenney, reports Variety. McElhenney is slated to star in the show.
Not much is known about the untitled project outside of its setting in a video game development studio. Interestingly, gaming publisher Ubisoft is signed on as a producer alongside Lionsgate-3 Arts Entertainment.
Pachinko – August 2018
Based on the Min Jin Lee novel, "Pachinko" tells the story of four generations of a Korean immigrant family, with settings in Korea, Japan, and the U.S. Soo Hugh will serve as showrunner, also writing and executive producing — some of her past TV work includes "Under the Dome" and "The Killing," Variety noted.
A company called Media Res will handle broader production duties. The outfit is already tied to another Apple-owned project, namely the morning show drama starring Jennifer Aniston and Reese Witherspoon.
See – August 2018
In some ways the best-known of the upcoming shows at this point, the latest news courtesy of Variety is the addition of Sylvia Hoeks and Archie Madekwe as recurring cast members. Hoeks is perhaps best known for playing Luv in "Blade Runner 2049," whereas Madekwe was in the 2018 miniseries adaptation of "Les Miserables."
In "See," Hoeks is slated to take on the role of Queen Kane, "a spiritual and military political head." Madekwe's character is even less well defined, described as an "intelligent son."
Time Bandits – July 2018
Apple is said by Deadline to be wrapping up a deal to turn Terry Gilliam's 1980 fantasy movie into a show, co-produced by Anonymous Content, Paramount Television, and Media Rights Capital. Gilliam himself is expected to serve as a "non-writing" executive producer.
The movie revolves around a boy who runs into the film's namesake bandits, who are using a map to travel through holes in spacetime to their next heist. While being pursued by the Supreme Being, they run across historical and mythical characters.
See – July 2018
New to the cast of the sci-fi series is Alfre Woodard, who will play Paris, Varietyreports. The character is described only as an advisor and priestess.
Woodard is probably best known as Mariah from the Netflix show "Luke Cage," but won an Emmy for the HBO movie "Miss Evers' Boys," and an Oscar nomination for "Cross Creek." Marvel fans may also recognize her as Miriam Sharpe from "Captain America: Civil War."
The actress is just the second cast member announced for the show, the first being "Aquaman" and "Game of Thrones" star Jason Momoa, who is playing warrior Baba Voss.
Untitled morning show drama – July 2018
Apple's still-untitled morning show drama starring Reese Witherspoon and Jennifer Aniston will be directed by Mimi Leder, according to Variety. Leder is known for recent shows like "Shameless" and "The Leftovers," as well as movies like "Deep Impact" and "Pay It Forward." Leder is also set to work alongside Kerry Ehrin as an executive producer.
Variety adds that the show will be "an inside look at the lives of the people who help America wake up in the morning, exploring the unique challenges faced by the women and men who carry out this daily televised ritual."
See – July 2018
Jason Momoa, best known for his work on "Justice League" and "Game of Thrones," has reportedly landed the lead role in Apple's upcoming original series "See." The actor will play the role of Baba Voss, a "fearless warrior, leader and guardian" in Apple's sci-fi saga.
Not much is known about "See," but previous reports have described the forthcoming original series as an "epic, world-building drama" set in the future. The series is expected to run eight episodes.
Oscar-nominated screenwriter Steven Knight ("Peaky Blinders") penned the script and will serve as executive producer, while Francis Lawrence ("The Hunger Games: Catching Fire and Mockingjay Parts 1 & 2") will direct. "See" was spawned by Chernin Entertainment and Endeavor Content, and purchased by Apple.
Calls – June 2018
Originally a short-form series on France's Canal+, Apple is working on an English-language co-production, as well as acquiring the rights to the first season of the French-language show.
In its French incarnation, the series tells short stories using a mix of real-world audio and low-key images, Variety explained.
Sesame Workshop – June 2018
One of the earliest Muppets, from an IBM training film.
Looking to fill in its children's programming niche, Apple is reportedly partnering with Sesame Workshop to create an assortment of shows. The content won't include "Sesame Street," which belongs to HBO and PBS, according to Variety. Sesame Workshop is expected to produce a mix of live-action, animated, and puppet series.
You Think It, I'll Say It – June 2018
Based on Curtis Sittenfield's upcoming collection of short stories, the 10-episode series was originally expected to star well-known comedienne Kristen Wiig. Wiig has had to leave that role however to due to a scheduling conflict with "Wonder Woman 1984," Variety said. In the latter she's playing the movie's villain, Cheetah.
Sources claimed that Apple is still moving ahead with its show, which has Colleen McGuinness as creator and showrunner, and Sittenfield as a consulting producer. Wiig is still slated to executive produce, with help from Reese Witherspoon and Lauren Neustadter. Neustadter works under Witherspoon's Hello Sunshine media brand.
'Little America' series – June 2018
Kumail Nanjiani and Emily V. Gordon. | Source:
Vogue
Apple has reportedly ordered "Little America," an immigrant anthology series that will feature tales inspired by true stories published in Epic Magazine. Academy Award-nominated screenwriters Kumail Nanjiani and Emily V. Gordon, who worked together on "The Big Sick," will executive produce alongside Alan Yang ("Master of None"), while Lee Eisenberg ("The Office") will write, executive produce and serve as showrunner, reports The Wrap.
Oprah Winfrey – June 2018
Apple and Winfrey have forged a long-term partnership to "create original programs that embrace her incomparable ability to connect with audiences around the world." Nothing else is known so far.
Untitled Hilde Lysiak drama – June 2018
Apple has reportedly ordered 10 episodes of a drama based on Hilde Lysiak, a preteen girl who exposed a murder in the town of Selinsgrove, Pa. through her own newspaper, the Orange Street News. In the fictional version, a girl moves from Brooklyn to a small town where she exposes a cold case residents — and her own father — have tried to suppress.
Variety says that the show is being executive produced by Dana Fox and Dara Resnik, with help from Joy Gorman Wettels and Sharlene Martin. Jon M. Chu will both direct and executive produce. The show is under the wing of Anonymous Content and Paramount Television, which are also working on Apple's "Shantaram."
Little Voices – May 2018
Executive produced by "Star Wars: The Force Awakens" director J.J. Abrams and musician Sara Bareilles, Variety reports that the show is a "love letter to the diverse musicality of New York which explores the universal journey of finding your authentic voice in your early 20s." Apple has ordered 10 initial episodes.
The show is attached to Abrams' Bad Robot Productions and Warner Bros. Television, as well as Jessie Nelson, who will not only write and executive produce but serve as showrunner and direct the first episode. Nelson worked with Bareilles on the musical "Waitress," and has film credits such as "I Am Sam" and "Corrina, Corrina."
Shantaram – May 2018
The show is based on a Gregory David Roberts novel, which follows an escapee from an Australian prison who ends up in the Bombay underworld.
The series will be produced by Anonymous Content and Paramount Television, according to Variety. Perhaps the biggest names attached to the project so far are Eric Warren Singer and David Manson —the latter has executive produced shows like "House of Cards" and "Big Love," while Singer will handle both writing and executive production duties, with screenwriting credits like "American Hustle."
Dickinson – May 2018
Starring Hailee Steinfeld, the 30-minute comedy series will look at the restrained 19th-century world of Emily Dickinson through the poet's unique filter. Steinfeld has never before had a regular TV role, being best known for movies like "True Grit" and "Pitch Perfect," as well as her musical career.
Alena Smith will serve as writer and executive producer, while David Gordon Green is set to direct and executive produce. Alex Goldstone from Anonymous Content will also executive produce, alongside Michael Sugar and Ashley Zalta via Sugar23 Productions and Darlene Hunt. The show is being produced by wiip, Anonymous Content, and Sugar23.
Are You Sleeping – May 2018
Spencer in 'Hidden Figures.'
Apple has picked up 10 episodes in adapting the titular Kathleen Barber novel, with "Hidden Figures" star Octavia Spencer cast in the lead role. The show will be a "true crime" drama, revolving around podcasts about unsolved or wrongful convictions. Sarah Koenig, the creator of "Serial," is thought to be serving a consulting role. Reese Witherspoon, Peter Chernin, Jenno Topping, and Kristen Campo will be executive producers.
In June we learned that additional cast members will include Lizzy Caplan, Ron Cephas Jones, Elizabeth Perkins, Mekhi Phifer, Michael Beach, Tracie Thoms, and Haneefah Wood, but most notably Aaron Paul, playing fictional convicted murderer Warren Cave, whose innocence has been questioned for some 20 years.
Spencer will play reporter Poppy Parnell, looking into the case for her podcast, while Caplan will play twin sisters, Josie and Lanie. Jones will be Poppy's father, Leander "Shreve" Scoville, while Perkins will play Cave's mother Melanie. Phifer is cast as former detective Markus Knox, and Beach will be Poppy's husband Ingram Rhoades.
Finally Thoms will play Poppy's older sister Desiree, and Wood will be another sister, Cydie.
Foundation – Apr. 2018
Apple isn't the first to take a crack at Isaac Asimov's sprawling science fiction books — Fox, Sony, and Warner Bros. have all tried and failed to get feature films off the ground, and HBO aborted an attempt at its own TV series. This latest effort is being handled by Skydance Television, with industry veterans David Goyer and Josh Friedman serving as executive producers and showrunners.
The problem so far has been the scope of Asimov's story. At the center is a "psycho-historian" who foresees the collapse of the Galactic Empire, and sets about preventing the death of human knowledge.
Central Park – March 2018
Coming from 20th Century Fox Television and Loren Bouchard, the creator of "Bob's Burgers," "Central Park" will be Apple's first animated series, a musical tale about a family of caretakers that end up saving its namesake. The show was written by Bouchard, Josh Gad, and Nora Smith, and will star people like Leslie Odom, Jr., Stanely Tucci, and Kristen Bell.
Little America – Feb. 2018
This show is being written by Kumail Nanjiani and Emily V. Gordon, previously responsible for "The Big Sick," and revolves around immigrant stories plucked from real-life accounts in Epic Magazine. Each episode will run just 30 minutes in an anthology format.
Epic editors Joshuah Bearman and Joshua Davis will serve as executive producers. The show will be developed by studio Uni TV.
Untitled M. Night Shyamalan thriller – Feb. 2018
Little is known about the show beyond it having ten 30-minute episodes, the first being directed by Shyamalan, the rest only being produced by him. His output is infamously mixed, including hits like "The Sixth Sense" and "Unbreakable" but also bombs like "Avatar: The Last Airbender." The show will be Shyamalan's second TV production, after executive producing Fox's "Wayward Pines."
Leading writing will be Tony Basgallop, who has worked on projects like "24: Legacy," "Inside Men," and "EastEnders." Jason Blumenthal, Todd Black, and Steve Tisch of production company Escape Artists are also executive producers, and Taylor Latham will be co-executive producing.
Swagger – Feb. 2018
The drama will serve as a biography of NBA player Kevin Durant, but also dive into the Amateur Athletic Union and the players, families, and coaches involved with the program.
Durant himself will be involved as a producer, working in conjunction with Imagine Television, run by Brian Grazer and Ron Howard. Reggie Rock Bythewood will write and direct.
Carpool Karaoke – Feb. 2018
Apple has opted to renew "Carpool Karaoke" for a second season according to CBS, which hosts "The Late Late Show with James Corden" — from which "Carpool Karaoke" was spun off.
Most planned guests are unknown. Last season featured people like Will Smith, Metallica, and "Game of Thrones" stars Sophie Turner and Maisie Williams. An episode with Linkin Park and Ken Jeong was one of the last things recorded by Linkin Park singer Chester Bennington before his suicide.
A new episode is set to debut June 15, promoting the movie "Tag" by featuring stars Ed Helms, Jeremy Renner, and Jon Hamm. Whereas the first season was limited to Apple Music subscribers, this new episode will be available through the company's TV app.
Untitled Damien Chazelle project – Jan 2018
Chazelle is working with fellow "La La Land" peers Jordan Horowitz and Fred Berger, who will serve as producers, on a show with no other known details.
Untitled sketch comedy show – Jan. 2018
This one will star comedienne Kristen Wiig, and be based on a shorty story collection by Curtis Sittenfelds called "You Think It, I'll Say It." The effort is one of three Apple shows linked to Reese Witherspoon's Hello Sunshine studio, the others being the morning show drama and "Are You Sleeping."
See – Jan. 2018
Described as an "epic, world-building drama" set in the future, "See" is written by Steven Knight ("Peaky Blinders") and directed by Francis Lawrence ("The Hunger Games: Catching Fire and Mockingjay Parts 1 & 2").
"Game of Thrones" alum Jason Momoa is set to star in the sci-fi drama that is expected to run eight episodes.
Home – Jan. 2018
A docuseries rather than fiction, "Home" will focus on unusual homes and the people behind them. Currently 10 episodes are queued up.
The show is being produced by Altimeter Films, Time Inc. Productions, and Media Weaver Entertainment, with director Matt Tyrnauer at the helm. Tyrnauer is perhaps best known for a 2008 film about fashion designer Valentino Garavani.
Untitled Ronald D. Moore space drama – Dec. 2017
Another mystery project, it is at least known to be set in an alternate timeline in which the 1960s' space race never ended. Moore is a high-profile figure in the science fiction world, with credits such as the "Battlestar Galactica" reboot and "Star Trek: The Next Generation."
It will boast "Fargo" producers Matt Wolpert and Ben Nedivi, and come from Sony Pictures Television and Tall Ship Productions.
Untitled morning show drama – Nov. 2017
Based on the Brian Stelter novel "Top of the Morning: Inside the Cutthroat World of Morning TV," Apple has already ordered two seasons. This may be because of its big talent get: Jennifer Aniston and Reese Witherspoon, who will both star and executive produce. The series is being written and executive produced by "House of Cards" supervising producer and political consultant Jay Carson.
Amazing Stories – Oct. 2017
The original Amazing Stories.
Based on a two-season Steven Spielberg anthology series from the 1980s, Apple has reportedly ordered 10 episodes with a budget of over $5 million each. The new show may be similar in tone to "The Twilight Zone" or "Black Mirror," with Spielberg back on as an executive producer.
It hasn't had the smoothest run so far. Original showrunner Bryan Fuller left in February, to be replaced by "Once Upon a Time" creators Adam Horowitz and Edward Kitsis. Fuller allegedly wanted the show to be closer in tone to "Black Mirror," but Apple objected, presumably because of its demands for a sanitized programming lineup.
Beyond TV
Cartoon Saloon's latest movie, "The Breadwinner."
Apple's first distributed feature film could from Cartoon Saloon, known for animated movies like "The Secret of Kells" and more recently "The Breadwinner." While Apple is said to be nearing a distribution deal for the U.S. and some other countries, as of June 2018 the movie has yet to be made and is over a year away.